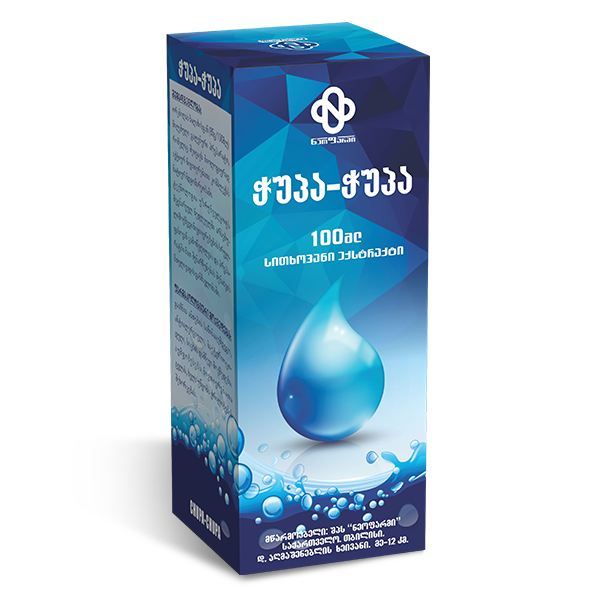 APPLICATION INSTRUCTION
PARAMEDICAL MEAN
CHUPA – CHUPA
DRUG FORM: Herbal origin liquid extract for external use.
DESCRIPTION: Dark brown liquid with specific smell and sweet taste, (with feel of mucus). Existence of sediment is possible.
COMPOSITION: Active substance: grass Turns (Herba bidentis) – 85g/100ml;
Aiding substances: sorbic acid, 95 % ethyl alcohol, water.
Turn contains essential oils, carotins, flavonoids, tannins, cumarins, ascorbin acid, microelements (Iron, chrome, copper, aluminum, manganum).
PHARMACOLOGICAL OPERATION: The preparation has anti-inflammatory, bactericidal action which is connected with the content of flavonoids (flavons and khalcons), as well as by tannin matters, which dominantly containes polyphenoles of the simplest structure. They are characterized with more expressed antimicrobial effects, than tannic tanning matters. Antimicrobial effect of a preparation is also increased by content of manganum in the plant. Besides the preparation is characterized with anti-allergic, fever lowering effect (due exude enhancement). The preparation contributes healing of wounds.
INDICATION: it is used in complex therapy, as an aid mean:
· The skin form of Exudative diathesis;
· Eczema;
· Psoriasis;
· Furunculus;
· Pyoderma.
SIDE EFFECTS: No data avaliable.
CONTRA-INDICATION: Additional sensitivity toward the component of the preparation.
APPLICATION AND RULE DOSAGE: 20ml of "Chupa-Chupa" is diluted in 10 liters of warm water. Shake the preparation before applying!
INTERACTION WITH OTHER DRUGS: No data available.
PREGNANCY AND LACTATION PERIOD: Is recommended.
USE IN CHILDREN: Use is recommended.
INFLUENCE ON DRIVING CARS AND OTHER VEHICLES: The preparation does not influence
OVERDOSE: Overdose cases aren't recorded.
PRODUCTION FORM: Primary package: 100 ml liquid extract in dark orange polymeric bottle.
Secondary package: 1 bottle with a using instruction in cardboard box.
SHELF LIFE: 3 years.
STORAGE CONDITIONS: Store on 15-25ºC temperature in a dark place and keep away from children.
ORDER OF ISSUE: Pharmaceutical product group III, issued without doctors' prescription.
MANUFACTURER: "NEOPHARMI"LTD.
12th km. David Agmashenebeli alley. Tbilisi. Georgia
Tel/Fax: +995 (32) 259-64-46, 259-57-90.