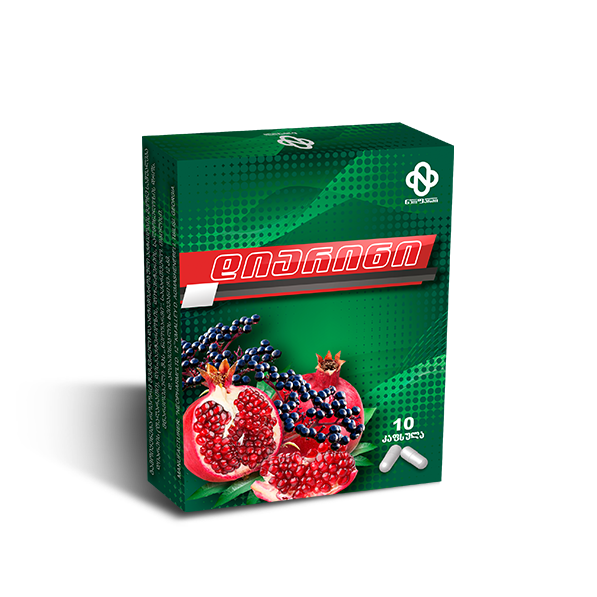 APPLICATION INSTRUCTION
''DIARIN"
PARAMEDICAL MEAN
COMPOSITION: extract of fruits of elder – 0.26 g; extract of a pomegranate peel – 0.13 g.
Extract of elder contains carotinoids, tannins, amino acids.
Extract of a pomegranate peel contains tannins, antioxidants, micro and macro elements (potassium, calcium, magnesium, iron, manganese, zinc, selenium, aluminum, choline, nickel and etc.), polyphenols, a large amount of vitamins (group K, C, B).
PHARMACOLOGICAL ACTION: biologically active substances compounding in the pomegranate peel and extract of elder define their antimicrobial, antidiarrheal, antioxidant, antiparasitic, antiinflammatory action.
Capsules of "Diarin" are effective at diarrhea in view of the antidiarrheal action.
By experimental studies it is established that, the substances compounding in the pomegranate peell destroys the microbes causing dysentery, salmonellosis, cholera. It is known that chemical drugs (for example antibiotics) without distinction, affect both on causative agents of diseases and useful microorganisms, organism cells, the immune system is forced to fight against own cells. Advantage of treatment with "Diarin" presents: destruction of pathogenic bacteriums is carried out gradually in digestive tract and their place is taken by intestinal microflora which is not suppressed, multiples and substitutes bacteria – causative agents of diseases.
"Diarin" capsules are characterized by multilateral useful effect: regulate work of digestive tract, have strong anthelmintic action, promotes removal of parasite helminths and toxic products of their activity from the organism (application for a long period is safe for an organism – in difference from chemical medicines do not irritate a liver), promote removal of cancerogenic and radioactive materials from the organism, slow down process of aging of an organism, participates in blood formation process.
INDICATION: IT IS USED IN COMPLEX THERAPY, AS AN AID MEAN: it is used as antidiarrheal and antimicrobial meaning at diarrhea, dysbacteriosis, dysentery, salmonellosis.
ADMINISTRATION RULE AND DOSAGE: at a simple form of diarrhea, children aged from 12 up to 14 years is administered 1 capsule in a day after meal; in adolescents and adults more than 14 years old is administered 1-2 capsules once a day after meal.
If work of intestines is not normalized by single use of "Diarin", then administration of capsules should be continued by a dosage 1-2 capsules once a day within a week.
At treatment of dysbacteriosis, salmonellosis and dysentery it is necessary to administer "Diarin" capsules for 1 week, with dosage: 1 capsule 2 times a day.
SIDE EFFECTS: There can be occur allergic reactions in case of hypersensitivity to any components of the medicine.
In case of detecting side effects, the patient must interrupt usage of preparation and address to the doctor.
In case of side effects, which aren't indicated in this leaflet the patient should address to doctor or pharmacist.
CONTRAINDICATIONS: Allergy to the components which are a part of the drug, a chronic constipation, diabetes mellitus, inflammation of hemorrhoidal nodes, increased acidity of a stomach, pregnancy and period of a lactation, hepatitis, acute nephrite.
PREGNANCY AND LACTATION PERIOD: Drug is not used during pregnancy and lactation.
INFLUENCE ON ABILITY OF DRIVING CARS AND MECHANISMS: The preparation does not influence on driving cars and mechanisms.
OVERDOSE: Due to the content of alkaloids in drug, in case of overdose symptoms of poisoning can take place. In case of overdose gastric lavage and prescription of adsorbent is necessary.
RELEASE FORM:
Primary package: 10 capsules in pvc/alu blister.
Secondary packing: 1 blister is placed in a cardboard box with instruction.
SHELF LIFE: 2 years.
After the expiry or in case of defect, detected after the visual check usage of preparation is forbidden.
STORAGE CONDITIONS: Store at not more than 25ºC temperature, in a protected from light, dry place.
ORDER OF ISSUE FROM PHARMACY: Pharmaceutical product group III – issued without a prescription.
MANUFACTURER: "Neopharmi" LTD.
12th km, David Agmashenebeli alley, Tbilisi, Georgia
Tel/Fax: +995 (032) 259-64-46; 259-57-90.