EUCALYPTUS + C - 12 PASTILLES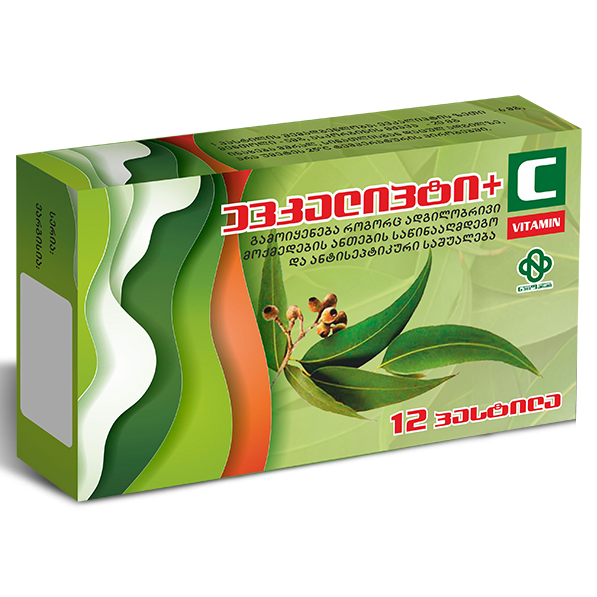 APPLICATION INSTRUCTION
PARAMEDICAL MEAN
EUCALYPTUS + C
DRUG FORM: Pastilles.
PHARMACOLOGICAL GROUP: Local acting anti inflammatory and antiseptic mean.
PHARMACOLOGIAL OPERATION: Preparation has anti inflammatory, bactericidal, expectorant action. Operates on gram-positive and gram-negative microbes.
Pharmacological operation of the preparation is defined by complex of biologically active substances: essential oil (80% cineol), tannins, organic acids.
COMPOSITION: Active substances: eucalyptus oil – 6mg; menthol – 5mg; ascorbic acid -20mg.
Auxiliary substances: Izomalt, acacia.
USING RECOMMENDATION: IT IS USED IN COMPLEX THERAPY, AS AN AID MEAN:
· Oral cavity inflammatory diseases (gingivitis, stomatitis and etc.);
· Inflammatory diseases of upper air passages (laryngitis, tracheitis, pharyngitis, tonsillitis, bronchitis and etc.).
CONTRA-INDICATION: Individual incompatibility towards the components composing the preparation.
SIDE EFFECTS: No data available.
APPLICATION AND DOSAGE RULE: Pastilles should slowly sucking in the mouth.
For adults and children over 12 years: one pastille every 2-3 hours (no more than 6-8 pastilles per day).
Children from 5 to 12 years: one pastille 3-4 times a day (up to 4 lozenges per day).
Duration of the treatment period shouldn't exceed 5 day.
OVERDOSAGE: Cases of overdose aren't recorded.
PREGNANCY AND LACTATION PERIOD: Preparation may be used during pregnancy and lactation period by the doctor's prescription.
INTERACTION WITH OTHER DRUGS AND OTHER INTERACTION: No data available.
INFLUENCE ON CARS AND OTHER VEHICLES: Does not influence on driving cars and other vehicles.
PRODUCTION FORM: 6 pastilles on the blister. Two blisters are put in carton box with Application Instruction.
STORAGE CONDITIONS: Store in dry, protected from ligtht place, at not more then 25ºC temperature.
ORDER OF ISSUE: III group of a pharmaceutical product – issued without prescription.
SHELF LIFE: 3 years.
In case of visual defects or expiry of validity date, the preparation can't be used.
MANUFACTURER: Ltd "Neopharmi".
12th km. David Agmashenebeli alley. Tbilisi. Georgia.
Tel/Fax: +995 (032) 259-64-46, 259-57-90.