EXTRACT OF VALERIAN AND MELISSA WITH MINT NEO №40 tab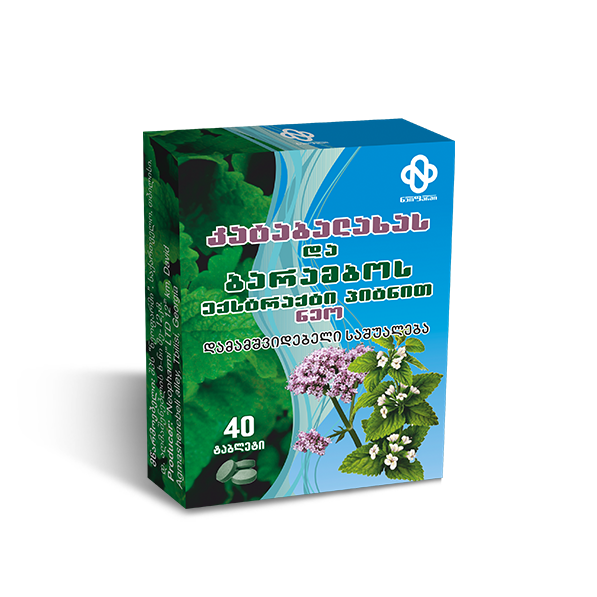 COMBINED PARAMEDICAL MEAN
,,EXTRACT OF VALERIAN AND MELISSA WITH MINT NEO"
APPLICATION INSTRUCTION
DRUG FORM: Tablets.
COMPOSITION OF ONE TABLET:
Аctive substances:
Extract of valerian – 0,025 g;
(Extractum Valerianae)
Extract of melissa – 0.0125 g;
(Extractum Melissae)
Mint oil – 0.0025g;
(Oleum Menthae)
Aiding materials: Magnesium carbonate, glucosa, starch, talc, calcium stearate, yellow pigment, blue pigment.
PHARMACOLOGICAL OPERATION: ,,Extract of Valerian and Melissa with mint Neo" is the combined phytopreparation, which is characterized with sedative action.
Extract of Valerian reduces excitability of central nervous system, causes relaxation of smooth muscles, strengthens operation of sleeping pills.
Extract of Melissa is characrerized with spasmolytic, sedative, analgesic action. It improves appetite, strengthens gastric fluid's secretion.
Mint oil has spasmolytic, choleretic action, regulates function of gastrointestinal tract.
INDICATION: IT IS USED IN COMPLEX THERAPY, AS AN AID MEAN:
· Nervous excitability;
· Insomnia, sleep disorder;
· Spasm of gastrointestinal system, functional disorder.
APPLICATION AND DOSAGE RULE: Taken perorally.
In adults and children above 12 years:1-2 tablets 3-4 times a day.
For sleepless: 1 or 2 tablet for an hour before sleep.
CONTRA-INDICATION: Additional sensitivity towards the components of the preparation, children under 12 years.
SIDE EFFECTS: In rare cases allergic reactions may be occurred.
SPECIAL INDICATIONS: Duration of usage the preparation is not limited. Even during long-term usage of the preparation doesn't cause dependence on it. Drug withdrawal doesn't cause abstinence syndrome.
INFLUENCE ON DRIVING CARS AND OTHER VEHICLES: Does not influence on driving cars and other vehicles.
OVER DOSAGE: No data available.
INTERACTION WITH OTHER MEDICAL PREPARATIONS: Usage the preparation with other sedative means reinforces sedative action on nervous system.
PREGNANCY AND LACTATION: Preparation may be used during pregnancy and lactation period under doctor's supervision.
PACKING:
Primary packing: 20 tablets on a blister;
Secondary packing: 2 blisters in a cardboard box with instructions.
ORDER OF ISSUE: Pharmaceutical product group III, isued without a prescription.
SHELF LIFE: 3 years.
STORAGE CONDITION: Store at a room temperature, in a dry and protected from light place.
PRODUCER: ,,Neopharmi" LTD.
12th km, David Agmashenebeli alley, Tbilisi, Georgia
Tel/Fax: +995 (032) 259-57-90; 259-64-46.