GEOMIN FORTE 500mg №70 caps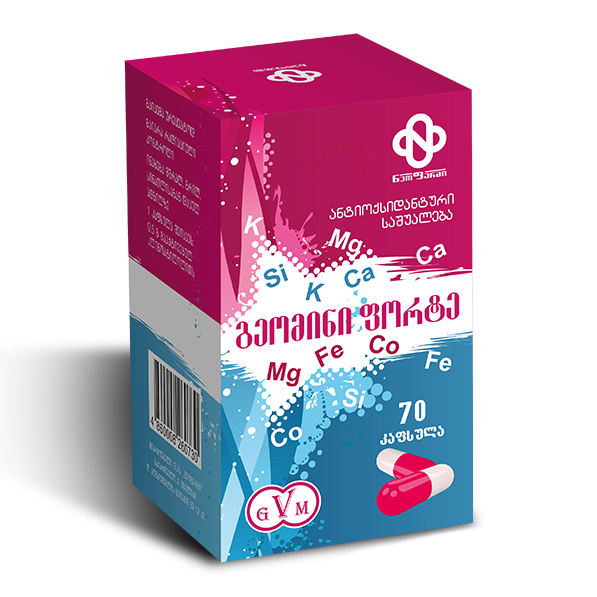 BIOLOGICALLY ACTIVE  SUPPLEMENTS
GEOMIN FORTE 
APPLICATION INSTRUCTION
DRUG FORM: capsules
COMPOSITION: Each capsule contains 500mg of activated Clinoptilolite.
PHARMACOLOGICAL OPERATION: "Geomin Forte" is an antioxidant medicine.  As opposed to common antioxidants it stimulates endogen antioxidant system of organism. It represents an oxidoreducing preparation of direct action. An activated natural mineral Zeolite (Clinoptilolite) actively affects the membrane of a cell, as a surface-active donor of electrons. Oxidoreductive effect of ,,Geomin Forte" exceeds 200 times then of vitamins C and E.
INDICATION: IT IS USED IN COMPLEX THERAPY, AS AN AID MEAN:
· Functional state lowering and tiredness of organism immune system;
· Intoxications (Is used as the best sorbent during the intoxications of nutrition, infectious, professional, during the chronic exposure of heavy metals and radiation). 
· Allergic diseases;
· Intestine tract and liver functioning lowering, hepatitis (It helps in improving a general condition).
· Pre and menopause nervous changes of men and women,  lowering of work ability; 
· It is recommended as an additional source of minerals (calcium and magnesium)
Concomitant therapy in cancer patients – the elimination of the side effects of chemotherapy and radiation therapy (reduction and prevention of hair loss, effects of intoxication, nausea, vomiting, toxic polyneuropathy, stimulation of red bone marrow); In patients with contraindications to chemotherapy and radiation therapy corrects immune status, reduces the effects carcinointoxication;
· Diseases of the skin (Recommended external use of the powder on wounds or damaged skin several times a day).
· Is used in chronic antioxidant therapy with standard treatment during the following diseases: diabetes mellitus, acceleration of the process of aging, Alzheimer's disease, Parkinson's disease, еndocrine pathologies, atherosclerosis and myocardial ischemia, hypertension, insult, rheumatism.
SIDE EFFECTS AND CONTRAINDICATIONS: Has no side effects and contra-indications. 
DOSAGE: Perorally, In adults 2 capsules three times a day, In children 1 capsule 2-3 times a day, after ingestion.
During the poisoning – 4 capsules 3 times a day.
In case of oncological disease-4 capsules 3-4 times a day.
INFLUENCE ON DRIVING OF CARS AND OTHER VEHICLES: The preparation has no influence on driving of the cars and other vehicles. 
STORAGE CONDITIONS: Stored in a dry, dark place, at a room temperature.
PRODUCTION FORM: 70 capsules in a glass or polyethylene flacon. One flacon is placed in a cardboard box with the using instruction. 
SHELF LIFE: 5 years.
ORDER OF ISSUE: Pharmaceutical products group III – issued without doctor's prescription.
PRODUCER:  Ltd "Neopharmi".
12th km, David Agmashenebeli alley, Tbilisi, Georgia
Tel/Fax: +995 (32) 259-57-90; 259-64-46.