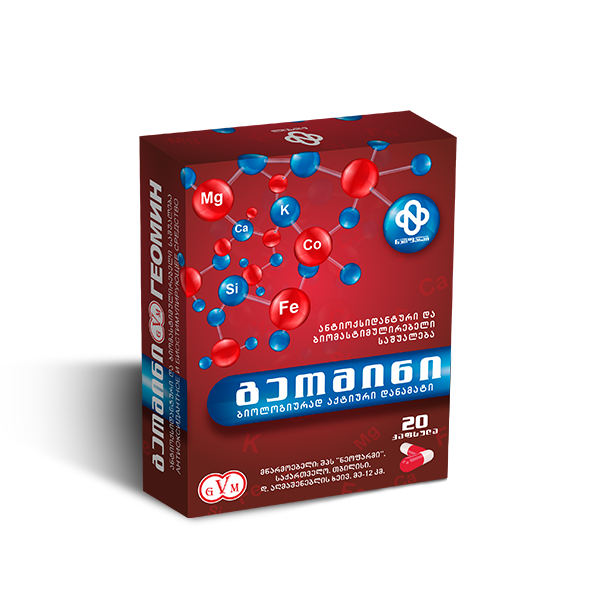 BIOLOGICALLY ACTIVE SUPPLEMENTS
GEOMINI
APPLICATION INSTRUCTION
DRUG FORM: Capsules.
COMPOSITION: Activated clinoptilolite – 0,5 g.
PHARMACOLOGICAL GROUP: Natural origin antioxidant mean.
PHARMACOLOGICAL ACTION: ,,Geomini" is antioxidant mean. With the difference with other antioxidant it stimulates organisms' endogen antioxidant system. It's direct-acting oxidoreductive mean. Natural mineral ceolite (clinoptilolite) acts directly on cell membrane as electrons surface active donor.
INDICATION: IT IS USED IN COMPLEX THERAPY, AS AN AID MEAN:
· Immune system functional lowering and tiredness;
· Lowering intestine tract and liver function and for rehabilitation after those diseases;
· Intoxication, among them nutritional, Intoxication with hard metals and poison;
· It has antistress and recovering action.
CONTRA-INDICATION: Additional sensitivity towards clinoptilolite.
SIDE EFFECTS: In rare cases allergic reactions may be occurred.
APPLICATION AND DOSAGE RULE: taken perorally, after having meal.
In adults: 1-2 capsule 2-3 times a day;
In children above 12 years: One capsule 2-3 times a day;
For intoxication: 4-4 capsule 3-4 times a day.
OVERDOSAGE: No data available.
DOSAGE OMISSION: In case of dosage omission next dose should be taken according to the previous schedule.
INTERACTION WITH OTHER MEDICAL PREPARATIONS: May be used with other preparations.
SPECIAL INDICATIONS: During the treatment period it is important to take food supplement every day at the same time.
USAGE IN PAEDIATRICS: Isn't used in children till 12 years.
INFLUENCE ON DRIVING CARS AND OTHER VEHICLES: The preparation does not influence on ability of driving cars and other vehicles.
PRODUCTION FORM:
10 capsules on pvc/alu blister. 2 blisters is placed in a carton box.
SHELF-LIFE: 5 years
In case of expiry of validity date or visual defects the preparation cannot be used.
STORAGE CONDITIONS: Protected from light, dry and cool place.
ISSUE: pharmaceutical product group III – issued without doctor's prescription.
PRODUSER: Ltd ,,Neopharmi".
12th km, David Agmashenebeli alley, Tbilisi, Georgia
Tel/Fax: +995 (032) 259-57-90; 259-64-46.