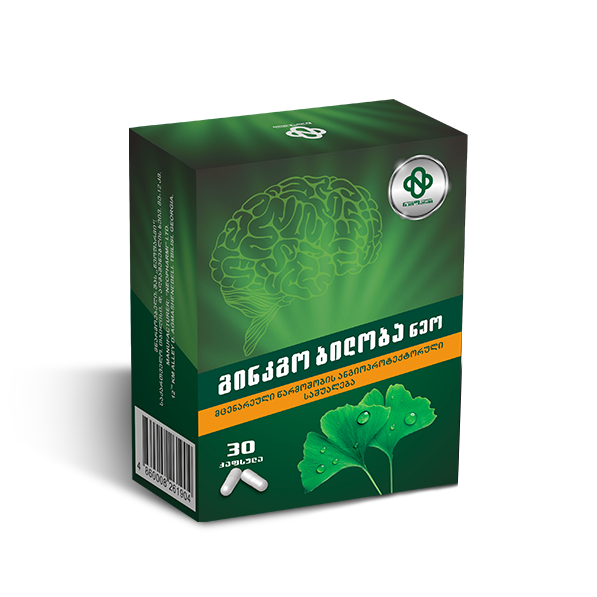 GINKGO BILOBA NEO
APPLICATION INSTRUCTION
GENERIC (INTERNATIONAL NONPROPRIETARY NAME): Ginkgo Biloba.
DRUG FORM: Capsules.
COMPOSITION: dry extract of leaves of Ginkgo Biloba – 40 mg (24% the flavonoid glycosides, 6% terpene lactones).
Excipient: magnesium carbonate, lactose, povidone, aerosil.
PHARMACOTHERAPEUTIC GROUP: Phytogenous angioprotective drug.
CLINICAL-PHARMACOLOGICAL GROUP: Brain and peripheral blood circulation improvement drug.
PHARMACOLOGICAL OPERATION: ,,Ginkgo Biloba neo" is a phytogenous drug. Active substances of the extract – flavonoid glycosides and terpene lactones (Gingkolides and Bilobalides) regulate metabolism in the cells, improve rheological indicators of blood and microcirculation. Medicine is characterized by anti-hypotoxic activity on the tissues: supplies a brain and peripheral tissue with oxygen and glucose, improves blood circulation in the brain, it has cerebroprotective action, promotes decrease of permeability of the walls of vessels (anti-edematous action in the brain and peripheral tissues), interferes aggregation of platelets.
INDICATION: IT IS USED IN COMPLEX THERAPY, AS AN AID MEAN:
-various etiology discirculatory encephalopathy (stroke, craniocerebral trauma, elderly age) that is followed by:
Lowering of attention;
Decrease of memory;
Lowering of intellectual capacities;
Feeling of fear;
Sleep disturbance;
-Peripheral circulation and microcirculation disorder (including arteriopathy of lower extremities);
-Raynaud syndrome;
-Neurosensory disorders (dizziness, tinnitus, hypacusia).
CONTRAINDICATIONS: Abnormal ability of blood clotting; stomach and duodenal ulcer disease; erosive gastritis; acute blood circulation disorder in the brain; acute myocardial infarction; arterial hypotension; age of 18 years; hypersensitivity toward the compounding components of medicine; pregnancy and lactation period.
SPECIAL INDICATIONS: It is not recommended to take alcohol together with the drug.
Taking of preparation during pregnancy and lactation is not recommended, but its negative effect on the fetus is not established.
SIDE EFFECTS: In rare cases may detect allergic reactions (rash on the skin), dyspepsia, headache, decreased blood clotting.
DOSE AND ADMINISTRATION: Capsules are taken orally with water.1-2 capsules are taken three times in a day. Improvement of the condition is observed after a month. Duration of treatment – not less than 3 months. If necessary, it is possible to continue a course of treatment (after consultation with a doctor).
OVERDOSE: Overdose cases of preparation isn't available.
INTERACTION WITH OTHER MEDICINAL PRODUCTS: Co-administration of GINKGO BILOBA NEO with acetylsalicylic acid or anticoagulants is not advisable.
INFLUENCE ON CARS AND OTHER VEHICLES: The preparation does not influence on driving cars and other
PRODUCTION FORM: Primary package: 10 capsules in pvc/alu blister.
Secondary package: 3 blisters in a cardboard box with the application instruction.
VALIDITY: 3 years.
In case of visual defects and expiry of validity date, the preparation can not be used.
STORAGE CONDITIONS: Store at a temperature no more than 25ºC, in a dark, dry place and keep away from children.
ORDER OF ISSUE: Pharmaceutical product group III, issued without a prescription.
MANUFACTURER: "Neopharmi" LTD.
12Tth km, David Agmashenebeli alley, Tbilisi, Georgia
Tel/Fax: +995 (032) 259-64-46; 259-57-90.