LANSOPRAZOLE 30mg №10 caps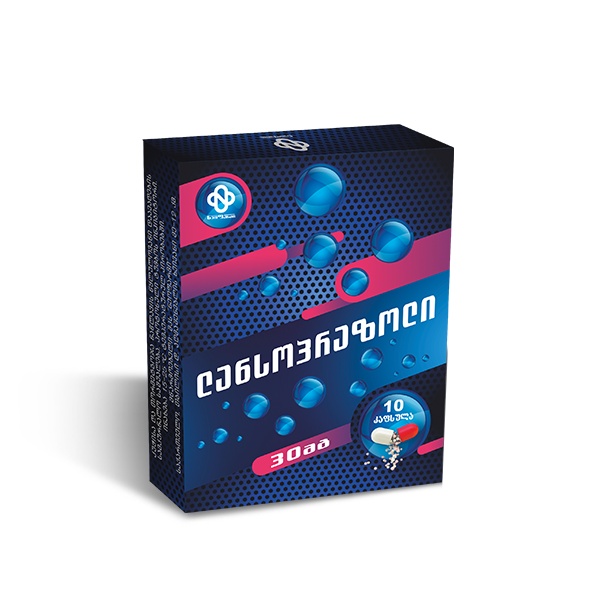 APPLICATION INSTRUCTION OF PHARMACEUTICAL PRODUCT
LANSOPRAZOLE – 30MG CAPSULES
DUODENUM AND STOMACH ULCER DISEASES
THERAPEUTIC AGENT
DESCRIPTION: Solid gelatine two-colour capsules (white and red), content of capsule white or whitish oval blob shape granule.
COMPOSITION: Active substance: Lansoprazole 30 mg.
Aiding substances: starch, lactose, talk, kalcium carbonate, titanium dioxide, sucarose, natrium carboxymethylcellulose, sorbitol.
PHARMACOLOGICAL OPERATION: It is a stomach ulcer diseases therapeutic agent. Blokes last stage of acid salt formation. In parietal cell of stomach it transforms as an active form – sulfonamide. Reduces basal and stimulating (food, pentagastrine, insulin) secretion and secret volume. Speed of acid salt secretion inhibition depends on the dosage. It has gastroprotective action: reinforcement of mucous cover oxygenation and bicarbonate secretion. Lowers Helicobacter pylori growth, reduces blood circulation in stomach's antral part and lowers stomach's motor-evacuation function.
INDICATION: IT IS USED IN COMPLEX THERAPY, AS AN AID MEAN: Non-ulcer dyspepsia, stomach and duodenum ulcer disease, erosion- ulcerative esophagitis, reflux esophagitis, Zolinger-Elison syndrome, and Helicobacter pylori infection (combined treatment).
CONTRA-INDICATION: Additional sensitivity toward the components of the preparation, malignant formation of intestine tract, pregnant period (especially the first term), children's age.
USING RULE AND DOSAGE: Peroral in the morning.
Non-ulcer dyspepsia: 15-30 mg in a day.
Duodenum ulcer: 30 mg in a day during 2-4 weeks.
Gastric ulcer: 30-60 mg in a day during 4-8 weeks;
Reflux esophagitis: 30 mg in a day for 4 weeks;
Zolinger-Elison syndrome: dosage will be selected individually, that will supplies basal sourness level 10 mm/h.
Helicobacter pylori's infection: 30 mg 2 times in a day (combined treatment).
SIDE EFFECTS: Intestine tract: diarrhea, appetite increase or decrease rarely, nausea¸ pain in stomach, constipation.
Nervous system: headache, sleepiness.
Skin: – rarely rash, angioderma.
Sometimes interstitial nephritis, liver dysfunction, leucocytopenia, thrombocytopenia.
STORAGE CONDITIONS: Store on 15-25ºC temperature conditions.
SHELF LIFE: 2 years.
ORDER OF ISSUE: Pharmaceutical product group III (issued without prescription).
PACKAGE: Primary package: 10 capsules on pvc/alu blister.
Secondary package: 1 blister in a carton box with application instruction.
MANUFACTURER: Ltd "Neopharmi".
12th km, David Agmashenebeli alley, Tbilisi, Georgia.
Tel/Fax: +995 (032); 259-64-46; 259-57-90.