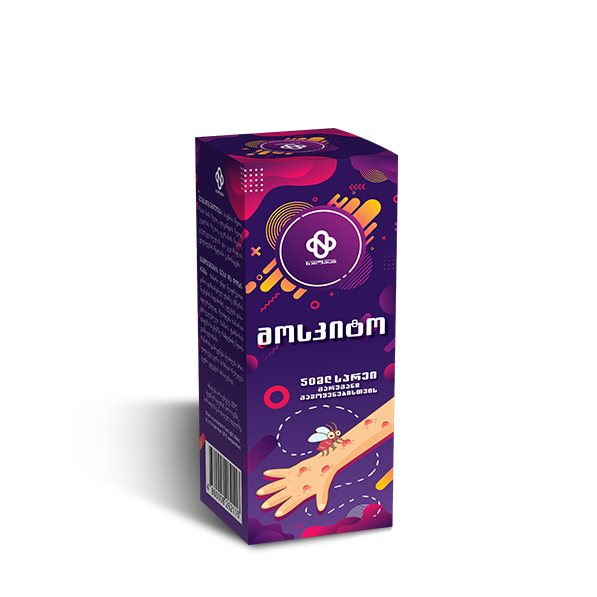 APPLICATION INSTRUCTION
MOSQUITO
PARAMEDICAL MEAN
DRUG FORM: Spray for external use.
COMPOSITION: mint oil, tea tree oil, lavender oil, cedar oil, geranium oil, calendula and chamomile flowers water infusion.
PHARMACOLOGICAL OPERATION: The preparation is effective at time of insect bite. The use of the drug helps to reduction and disappearance the problems caused by the bite: itch, edema, redness.
Due to the antibacterial action of calendula and chamomile flowers infusion, it has a positive effect on skin inflammatory processes, it has anti-itching, painkilling and wound healing action. Removes redness and swelling.
Mint essential oil have a cooling affect on a skin, also spasmolytic and analgesic effect, because of reduces the feel of the skin's itch and pain caused by insect bites.
Cedar essential oil has anti-inflammatory, painkiller, wound healing, antiseptic action, so it is effective in post-allergic reveal.
Lavender essential oil has a strong antibacterial effect and also helps to remove and calm skin irritation.
Geranium and tea tree oils represent repellents. Due to their content, applying on the skin the drug reveals insect's repellent action. They also have the ability to remove itch from the insect bites.
INDICATION: IT IS USED IN COMPLEX THERAPY, AS AN AID MEAN:
· Relieves pain caused by mosquito or other insect biting.
· Applying on a insect bites helps promote skin irritation, itch and redness, calms and cools the surface of the skin, improves damaged cells renewal processes, increases its protective functions, gives the skin a healthy look.
· It has a moderate repellent action, that's why its application on a skin cause a reduce probability of new bites.
USING RULE AND DOSAGE: Spray the solution to the damaged site of the skin (to the area of an insect bite). In order to enhance the effect, cotton pad soaked in a solution can be put on a bite area for a few minutes. The solution can be used for prophylactic purposes to obtain a repellent effect.
CONTRAINDICATION: Additional sensitivity towards the components of the preparation.
SIDE EFFECTS: In some cases there may occur allergic reaction.
PREGNANCY AND LACTATION PERIOD: Preparation can be used during pregnancy and lactation period if in anamnesis absence allergy towards the components of the preparation.
PEDIATRICS, GERIATRICS: Preparation can be used if in anamnesis absence allergy towards the components of the preparation.
INFLUENCE ON ABILITY OF DRIVING CARS AND MECHANISMS: The preparation does not influence on ability driving cars and mechanisms.
INTERACTION WITH OTHER PREPARATIONS OR OTHER TYPE INTERACTION: No data available.
OVERDOSE: Overdose cases aren't recorded.
PRODUCTION FORM: 50ml solution in polymeric vial with sprayer. The vial is placed in a carton box with instruction.
SHELF LIFE: 2 years.
In case of visual defects and expiry of validity date, use of the preparation is not permitted.
STORAGE CONDITIONS: Store in protected from light place, at not more than 25ºC temperature.
ORDER OF ISSUE: issued without prescription.
MANUFACTURER: ,,Neopharmi" Ltd.
12th km, David Agmashenebeli alley, Tbilisi, Georgia
Tel/Fax: +995 (032) 259-64-46, 259-57-90.