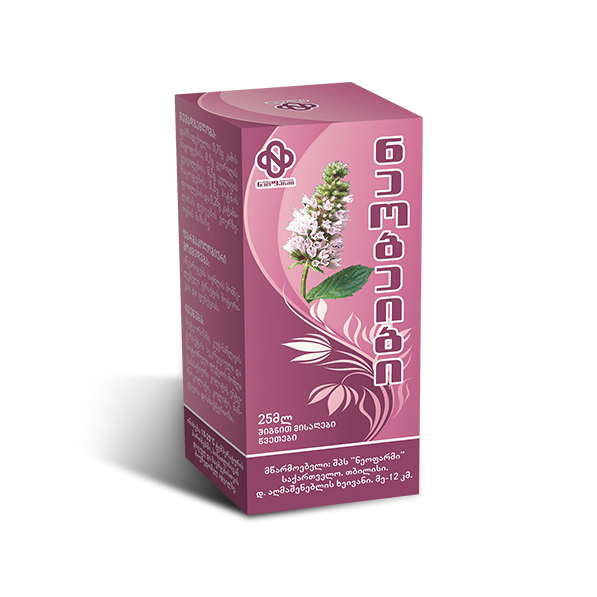 PARAMEDICAL MEAN
NEOBABY
ORAL DROPS
APPLICATION INSTRUCTION
COMPOSITION:
Active substances: Fruits of fennel (Fructus Anethi Graveolentis) – 30g, Flowers of Chamomile (Flores Matricariae) – 20g, leaves of Mint – (Folia Menthae piperitae) – 20g, fruit of Carvi (Fructus Carvi) – 20g, radix with roots of Valerian (Rhizoma cum radicibus Valerianae) – 10g.
Ethyl alcohol 70%, distilled water – for 1000ml tincture;
Plants in preparation containe complex of biologically active substances: ether-bearing oils, phlavonoids, coumarins, valepotriats.
PHARMACOLOGICAL ACTION: Preparation has sedative, spasmolitic, analgesic, anti-inflammatory, antimicrobial effect. Increases intestinal capillary flow and peristaltic by stimulation of mucous membrane's peripheral neuroreceptores. It reduces boiling processes, stimulates digestive system glands secretion. Preparation has choleretic and anti-vomiting effect. Reduces dyspeptic symptoms, increases the appetite.
INDICATION: IT IS USED IN COMPLEX THERAPY, AS AN AID MEAN:
· Meteorism;
· Gastro-intestinal tract secretion and motor function disorders (spastic colitis);
· Enterocolitis, colitis;
· Intestinal dysbacteriosis.
CONTRA-INDICATIONS: Increased sensitivity towards any ingredient of preparation.
SIDE EFFECTS: Prolonged usage of the drug may cause drowsiness.
ADMINISTRATION AND DOSAGE RULE: The drug is taken per orally, before applying the product should be diluted with a little water.
Children 0-3 months: 4-5 drops 3 times a day.
3-6 months: 6-8 drops 3 times a day.
6-12 months: 9-11 drops 3 times a day.
1 – 6 years: 12-15 drops 3 times a day.
6 – 15 years: 16-20 drops 3 times a day.
Adults: 25-30 drops 3 times a day.
NOTE: Shake the preparation before using!
OVER DOSAGE: Cases of over dosage aren't recorded.
DOSAGE OMISSION: A missed dose should be continued according to the previous schedule of treatment.
INTERACTION WITH OTHER DRUGS: Usage of the preparation is allowed with other drugs.
EFFECTS ON ABILITY TO DRIVE AND USE MACHINES: The preparation does not influence on driving and usage other vehicles.
PACKAGE:
Primary package: 25ml in a dark glass or polymer material vials, with polyethylene dripper and screw roof.
Secondary packaging: The bottle is placed in a cardboard box.
ORDER OF ISSUE: The third group of pharmaceutical product – issued without prescription.
SHELF LIFE: 2 years.
After data expiration usage the preparation is forbidden!
STORAGE CONDITIONS: Store at 18-25ºC temperature in a dark, dry place and keep away from children.
PRODUCER: "Neopharmi" LTD.
12th km, David Agmashenebeli alley, Tbilisi, Georgia.
Tel/Fax: +995 (032) 259-64-46; 259-57-90.