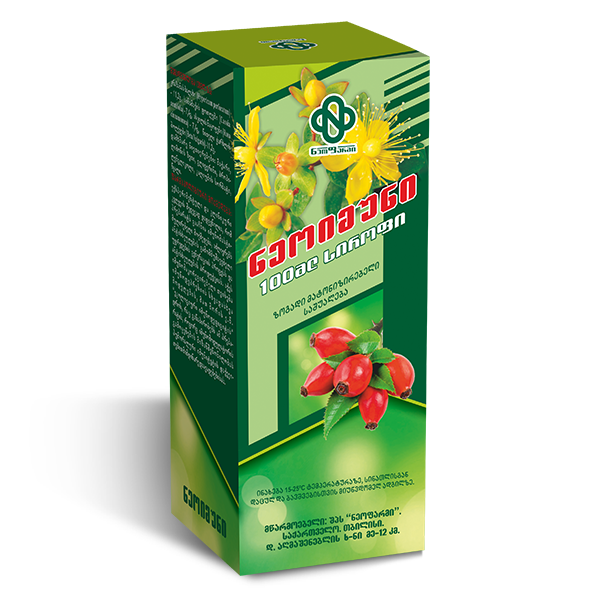 APPLICATION INSTRUCTION
NEOIMUNI
PARAMEDICAL MEAN
DRUG FORM: Syrup.
PHARMACOTHERAPEUTIC GROUP: General tonic.
COMPOSITION: Active substances: herb of St. John's Wort (Hypericum perforatum) – 11,2g, leaves of the Senna (Cassia acutifolia) – 7,4g, fruit of the Rosa (Rosa cinnamomea) – 7,4g, root of the Red beta (Beta Vulgaris) – 11,2g.
Aiding substances: sucrose, lemon oil, glycerol, propylene glycol, potassium sorbate, water.
Neoimun's syrup contains complex of biologically active substances: anthracenes (hypericine, pseudohypericin, gluco-aloe-emodine, glucorein), flavonoids (hyperozid, quercetine, rutin, isoramnetin and cempferol), vitamins (C, B1, B2, P, PP, K, E), carotinoides, mineral salts, organic acids (lemon, apple), adipose oils, pectin substances.
PHARMACOLOGICAL OPERATION: As a result of experimental and clinical research was ascertained, that the preparation has immunostimulating activity, reinforces generation process of antibodies producing cells and production of antibodies. It has immunomodulatory characteristics at time of different models of immunosuppression, among them so called "ecological immunodeficiency" that stipulates use of that preparation as a immunomodulator at time of humoral immunity lowering diseases.
INDICATION: IT IS USED IN COMPLEX THERAPY, AS AN AID MEAN:
· Acute and chronic infectious diseases (influenza, pneumonia, hepatitis, cholecystitis and etc.);
· In the postoperative period;
· Prolonged physical and mental tiredness;
· Exhaustion on the background of insomnia and psycho-emotional stress;
· Unwilling ecological factors operation;
· General common weakness.
CONTRA-INDICATION: Additional sensitivity toward the any component composing in the preparation.
USING RULE AND DOSAGE: Is administrated per orally after eating. It is allowed to dilute the syrup with a small amount of water.
For adults: 5-10 ml syrup (1 – 2 teaspoons) 3 times in a day.
For сhildren from 1 to 3 years: 2,5 ml syrup (1/2 teaspoon) once per day.
For сhildren from 3 to 6 years: 5 ml syrup (1 teaspoon) once per day or 2,5 ml syrup (1/2 teaspoon) 2 times in a day.
For сhildren from 6 to 10 years: 5 ml syrup (1 teaspoon) 2 times a day.
For сhildren from 10 to 14 years: 5 ml syrup (1 teaspoon) 3 times a day.
Duration of treatment is 1 month. In case of necessary, it is allowed to repeat a course of treatment after a 2-week break.
In case of dose omission the preparation should be continued according to the previous schedule of treatment.
SIDE EFFECTS: Taking the preparation for a long time may use increase of the arterial pressure.
PREGNANCY AND LACTATION PERIOD: No data available.
INTERACTION WITH OTHER PREPARATIONS AND OTHER INTERACTION: It doesn't influence.
INFLUENCE ON DRIVING CARS AND OTHER VEHICLES: It doesn't influence.
OVERDOSAGE: Cases of overdosage aren't recorded.
PRODUCTION FORM: Primary package: 100 ml syrup in orange polymeric material vial.
Secondary package: each vial in a cardboard box with the application instruction.
SHELF LIFE: 2 years.
In case of visual defects and expiry of validity date, the preparation can not be used.
ORDER OF ISSUE: III group, issued without prescription.
STORAGE CONDITIONS: Store at 15-25ºC temperature, protected from light place and keep away from children.
MANUFACTURER: Ltd "Neopharmi".
12th km, David Agmashenebeli alley, Tbilisi, Georgia.
Tel/Fax: +995 (032) 259-57-90; 259-64-46.