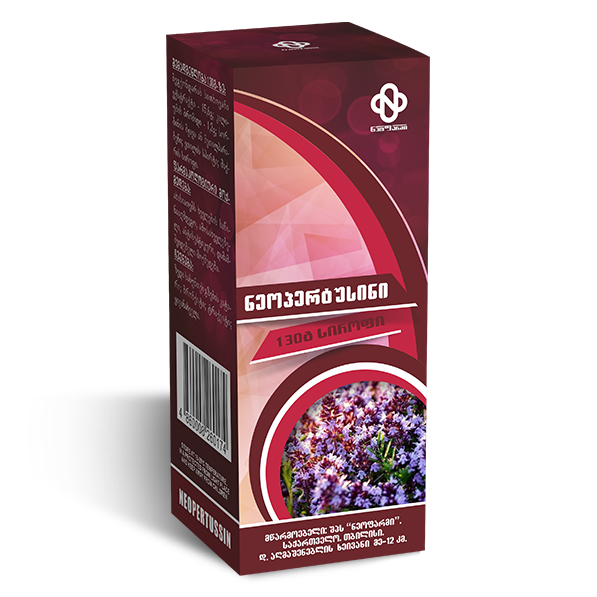 PARAMEDICAL MEAN
NEOPERTUSSIN
NEOPERTUSSINUM
APPLICATION INSTRUCTION

DRUG FORM: Syrup.
GENERIC NAME: Thymi vulgaris herbae extract + potassium bromide (Serpylli [Thymi vulgaris] herbae extract+Potassium bromide).
PHARMACOLOGICAL GROUP: Combined herbal origin expectorant and sedative mean.
COMPOSITION ON 130g: Thyme liquid extract – 15,6 g; potassium bromide – 1,3 g; sorbic acid or methylparaben; ethanol; sugar syrup.
The liquid extract of thyme contains a complex of biologically active substances: ether oil (which basic components are thymol, carvacrol, linalool), flavonoids, ursolic and oleinic acids.
PHARMACOLOGICAL OPERATION: It is characterised with antitussive, expectorant, antiseptic, sedative action.
INDICATIONS: IT IS USED IN COMPLEX THERAPY, AS AN AID MEAN:
· Katarrh of the upper respiratory ways;
· Bronchitis;
· Tracheitis;
· Whooping cough.
SIDE-EFFECTS: Allergic reactions towards the composition of the preparation.
In case of side-effects occur patient should stop taking the preparation and consult with doctor.
ADMINISTRATION AND DOSAGE RULE: Peroraly, before eating.
For adults and children up to 12 year15 ml syrup 3-4 times a day.
For children from 1 to 3 years: 2.5 ml syrup 2-3 times a day.
From 3 to 6 year children: 5 ml syrup 2-3 times a day.
From 6 to 12 year children: 10 ml syrup 2-3 times a day.
(Doses may be diluted in water).
Duration of treatment period is individually defined by doctor.
DOSAGE OMISSION: In case of dose omission is not recommended to take double dose of the preparation. The next dose should be taken as soon as possible or according to the initial scheme.
CONTRA-INDICATIONS: Additional sensitivity towards bromides; heart insufficiency; hypotension; anaemia; diabetes mellitus.
PREGNANCY AND THE PERIOD OF LACTATION: Preparation isn't used during pregnancy and lactation period.
INFLUENCE ON ABILITY OF DRIVING CARS AND OTHER VEHICLES: The preparation does not influence on driving cars and other vehicles.
INTERACTION WITH OTHER PREPARATIONS: Application of the preparation is not recommended with other cough suppressant and Codeine containing preparations.
SPECIAL INDICATION: The preparation is not prescribed for children till one year of age.
OVERDOSE: Symptoms: nausea, vomiting.
Treatment: Stop taking the preparation.
CAUTION: The drug is prescribed with caution in patients with diabetes mellitus, in pregnancy and lactation period.
PRODUCTION FORM: Primary packing: 130g syrup in an orange glass or polymeric bottle.
Secondary packing: The bottle is placed in a cardboard box with instruction.
SHELF-LIFE: 2 years.
In case of visual defects and expiry of validity date, the preparation can not be used.
STORAGE CONDITIONS: Store on 15-25º C, in protected from light place. Keep away from children.
ORDER OF ISSUE: III group of a pharmaceutical product, issued without prescription.
MANUFACTURER: Ltd "Neopharmi".
12th km, David Agmashenebeli alley, Tbilisi, Georgia.
Tel/Fax: +995 (032) 259-57-90; 259-64-46.