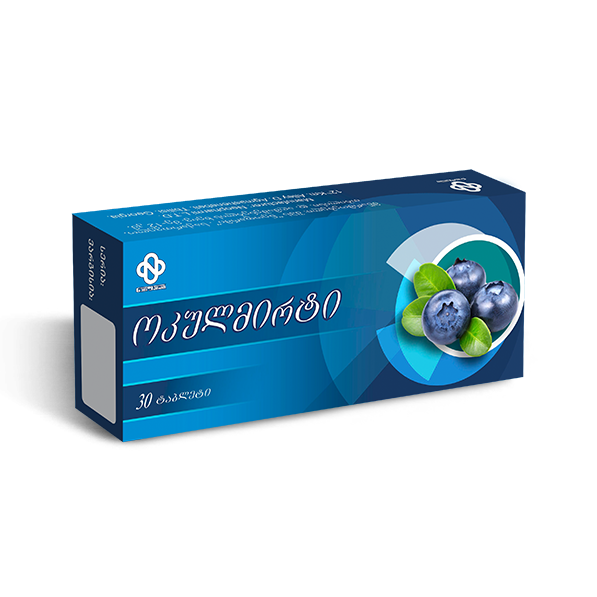 Paramedical mean
,,OCULMYRT''
Tablets
Application Instructions
COMPOSITION:
 Active substance:
Thick  extract of  bilberry -350 mg.
(Extractum Myrtilli spissum)
Aiding substances: starch, magnesium carbonate, calcium stearate, talc. 
DESCRIPTION: Sour taste, bluish black colour tablets of different colors spotty inclusions.
PHARMACOLOGICAL GROUP: antioxidant agent.
PHARMACOLOGICAL OPERATION: It includes an extract and characterizes antioxidant, antimicrobic and anti-inflammatory action. Reduces capillary fragility, increases its elasticity (essential or collagen synthesis, which effects elasticity of blood vessels walls, stimulates mucopolysaccharides synthesis); Improves resilience of cell membrane, stabilization of endotheliocyte phospholipids. Prevents aggregation of thrombocyte. 
It has antiinfection, anti-inflammatory, antioxidant operation. Improves condition of eye capillaries and blood supply of eye membrane; makes eye retina rhodopsin regeneration; strengthens its sensitivity toward light intensity changes; improves sight adaptation in the dark and sight sharpness. Provides natural protection of eyes' structure from aging process (antioxidant operation); promoting metabolism standardize in eye tissues; neutralizes operation of free radicals; strengthens natural ability of an eye to absorb and neutralize aggressive  radiation (visible blue  part of light stream spectrum,  ultraviolet and ionizing radiation); protects eye from tiredness (at time of long time working in artificial lighting) and from irritation. 
Makes adsorption of intestinal toxins, makes thick albumenous membrane on the surface layer of 
intestinal mucous membrane, which protects tissue cells from various irritating; accordingly calms pain and inflammatory processes, slows intestine  peristalsis and improves absorption process. Also, decreases dyspeptic events which is caused by fermentation and rotting process strengthening, it characterizes stopping action. 
Pharmacokinetics: In case of peroral taking anthocyanidins compounding in "OCULMYRT" is quickly absorbed from the intestine tract and allocates in the tissues. It is secreted by urinary and gall line according to the 3 phase pharmacokinetics type.  
INDICATION: IT IS USED IN COMPLEX THERAPY,  AS AN AID MEAN:
· Dystrophic changes of retina membrane (exceptional aetiology);
Myopia, especially in pupils;
· Sight adaptation ability disorder toward darkness;
· Eye "tiredness" syndrome;
· Eye structures aging process prophylactics;
· Eye diseases prophylactics at time of diabetes, arterial hypertension, rheumatic arthritis and etc.
· Common strengthening mean at time of first signs of eye disease and prophylactics at time of some professions, which are related to excess radiation (actor, TV collaborator, long time working with computer, rontgenologist, mountaineer, skiing). 
· Intestine tract various etiology diseases: digestion disorder, dyspepsia, enterocolitis, stomach and duodenum ulcerative diseases. 
CONTRA-INDICATION:  Additional sensitivity toward the components compounding in preparation, constipation, nephrolithiasis, oxalaturia.
ORDER OF RECEPTION AND DOSAGE:  Peroral.
For children from 3 to 6 years old: one pill 2 times in a day after eating;
For children from 6 to 12 years old: one pill 3 times in a day after eating;
Treating effect develops within three weeks from the treatment beginning and strengthens regular receiving of preparation. 
For using as a sight improving mean, duration of treatment makes up 1-2 months. It is desirable to repeat treating course.    
Adults and children over 12 years old: 1-2 pills 3 times in a day after eating. 
For prophylaxis, preparation may be used for two months, two times in a year.
In other cases usage of preparation is depend to the indication.
OVERDOSAGE:  Overdosage occurrence isn't found.
PREGNANCY AND LACTATION: There aren't data about usage of preparation at time of pregnancy and lactation. 
SIDE EFFECTS: There aren't revealed side effects if the preparation is used in recommended doses.  In some cases allergic reactions may develop.
IMPACT ON CAR DRIVERS OF AND THE PERSONNEL WORKING AT POTENTIALLY DANGEROUS INSTALLATIONS: Does not influence.
INTERACTION WITH OTHER MEDICAL MEANS: Isn't known.
PRODUCTION FORM:  
Primary packing:
10 pills on the blister. 
Secondary packing:  3 blisters in a box.
STORAGE CONDITIONS: Store at room temperature, in a dark and dry place, keep away from children. 
After visual check and defect revealing, usage of preparation is forbidden.
Validity: 3 years.
Issue: The third group of pharmaceutical product,  issued without prescription.
Producer: "Neopharmi" LTD.
12th km alley D. Agmashenebeli. Tbilisi. Georgia. 
Tel/ Fax: + 995 (032) 259-64-46, 259-57-90.