PROPOLIS ОINTMENT 20% 25g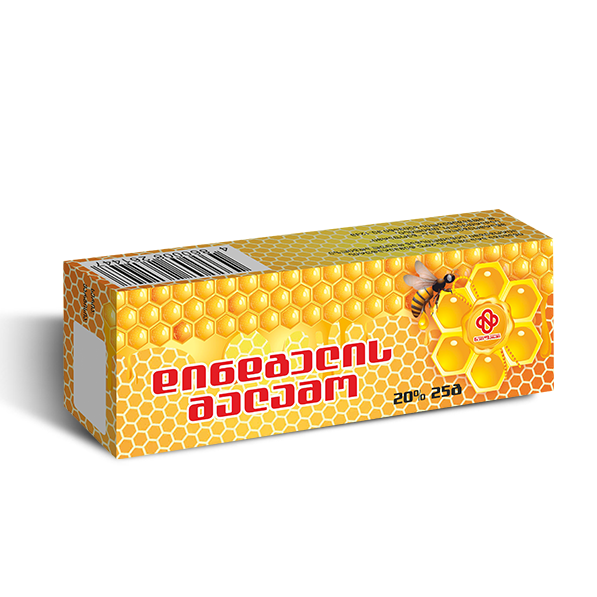 APPLICATION INSTRUCTION
PROPOLIS ОINTMENT
UNGUENTUM PROPOLISI
PARAMEDICAL MEAN
DRUG FORM: Оintment.
PHARMACOLOGICAL GROUP: Antiseptic, antimycotic, antimicrobial, anti-inflammatory agent.
DESCRIPTION: Yellowish-brown, aromatic smell characterized for propolis, water insoluble ointment.
COMPOSITION: Based on propolis prepared (20%).
Aiding substances: beeswax; vaseline; sunflower oil.
PHARMACOLOGICAL OPERATION: Characterized with anti -itch, anti –mycotic, bactericidal, painkiller, anti-inflammatory, tissue regenerative and epithelization stimulating action.
INDICATION: IT IS USED IN COMPLEX THERAPY, AS AN AID MEAN: Therapeutic agent of furunculosis, scorch, purulent wounding, long term unhealed wounds, neurodermatitis, tropic ulcer, inflammatory diseases of the oral mucosa (gingivitis, stomatitis, periodontal diseases) fungus diseases, proctitis, vaginitis and uterus erosion.
USING RULE AND DOSAGE: After removing necrosi tissue form the damaged part of the skin is put Propolis' ointment by turban or without it. Two times a day, treating course 2-3 weeks.
In case of inflammatory diseases of the oral cavity mucosa is put Propolis' ointment after meal.
The duration of treatment depends on the nature of the damage and is determined individually by a doctor.
CONTRA-INDICATION:
· Individual incompatibility toward the bee's product;
· Acute eczema;
SIDE EFFECTS: At time of using Propolis' ointment there may be develop skin hyperemia, rash and itch. In this case use of preparation should be quitted.
OVERDOSAGE: Cases of overdosage aren't recorded.
SPECIAL INDICATIONS: In case of allergic reaction, you should stop using the drug, wash ointment with warm water. When ointment is use as application in the mouth swallow is not recommended, though it is not harmful.
INTERECATION WITH OTHER TREATING PREPARATIONS: No data available.
PREGNANCY AND LACTATION PERIOD: Preparation may be used at time of pregnancy and lactation period, only with the consent of doctor.
EFFECTS ON ABILITY TO DRIVE AND USE MACHINES: No effect on control of vehicles and other machinery.
PRODUCTION FORM: 25g ointment in aluminum tube. The tube is placed in pasteboard box with instruction.
ORDER OF ISSUE: The third group of pharmaceutical product , issued without prescription.
VALIDITY: 3 years.
STORAGE CONDITIONS: Store at not more than 25ºC temperature, in a protected from light place.
MANUFACTURER: "Neopharmi" Ltd.
12th km, David Agmashenebeli alley, Tbilisi, Georgia
Tel/Fax: +995 (32) 259-64-46; 259-57-90.