PROPOLIS 30% ALCOHOL EXTRACT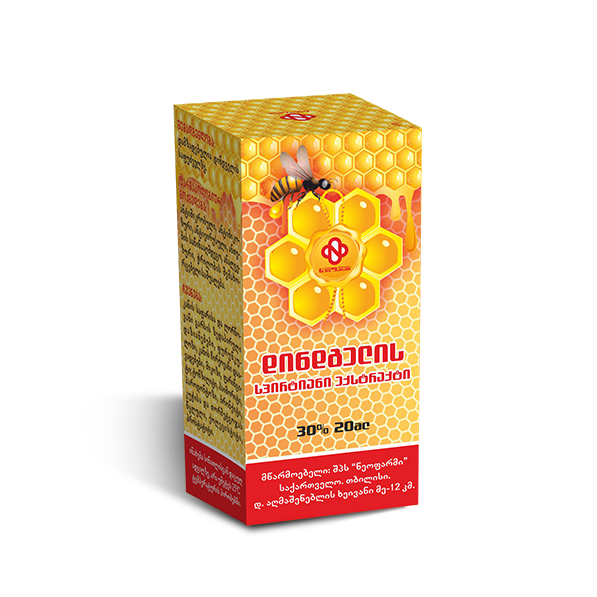 PARAMEDICAL MEAN
PROPOLIS 30% ALCOHOL EXTRACT
EXTRACTUM PROPOLISI SPIRITUOSUM
APPLICATION INSTRUCTION
COMPOSITION ON 20 ML:
Propolis – 6,0 g; 80% ethanol up to 20ml.
PHARMACOLOGIAL OPERATION: Antimicrobial antimicose, antiviral, anti-inflammatory, analgetic, wounds' healing mean.
INDICATION: IT IS USED IN COMPLEX THERAPY, AS AN AID MEAN:
· Superficial damages of the skin cover and mucous membrane;
· Furunculosis; skin suppurative diseases;
· Mycosis;
· Pharyngitis, tonsillitis, sinusitis, parodontosis, bronchitis;
· Stomach and duodenum ulcer, cholecystitis;
· Prostatitis.
CONTRA-INDICATION:
· An individual inconsistency toward the bee's products;
· Acute eczema.
USING RULE AND DOSAGE:
At time of superficial damages of the skin cover: The wetted tampon in propolis extract is put on the wound 1-3 times in a day.
At time of the skin fungus disease: The damaged area is treated by wetted tampon in diluted on 1:10 extract 2 times in a day.
At time of chronic pharyngitis and tonsillitis: Propolis extract is plastered on the tonsils 1-2 times in a day, during 8-15 days.
At time of chronic tonsillitis: The extract is used as an aqueous solution (1:20 diluted) for inhalation. 1-2 inhalations in a day during 7-10 days.
At time of sinusitis: Is made cavity rinse 2 times in a day, during 14 days (Propolis extract diluted 1:10 with isotone solution of sodium chlorides).
At time of furunculosis: The damaged area is treated with wetted tampon in diluted extract on 1:10.
At time of parodontosi: After the deep curettage the propolis extract is put in parodontosis bay for 5 minutes.
At time of superficial wounds of the oral cavity of mucous membrane: The propolis extract (15 drops in a half cup of warm water) is used for rinsing, 4-5 times in a day for 3-4 days.
At time of bronchitis, stomach and duodenum ulcer, cholecystitis, urinary bladder inflammation, prostate: 15-20 drops of the propolis extract diluted in 30-40 ml warm water is taken 2-3 times in a day, 20 minutes earlier before eating.
SIDE EFFECTS: By using Propolis' alcohol extract may cause itch, skin redden, rash. In such cases you must quit the preparation taking.
OVERDOSAGE: Cases of overdosage aren't recorded.
SPECIAL INDICATIONS: In case of allergic reaction, you should stop using the drug, the patient should address to doctor or the pharmacist.
INTERECATION WITH OTHER TREATING PREPARATIONS: No data available.
PREGNANCY AND LACTATION PERIOD: Preparation may be used at time of pregnancy and lactation period, only with the consent of doctor.
INFLUENCE ON ABILITY OF DRIVING CARS AND OTHER MECHANISMS: Does not influence on driving cars and other mechanisms.
PRODUCTION FORM: 20 ml solution in a dark orange polymer vials. The vial is stick etiquette and is put in a cartoon box.
ORDER OF ISSUE: Pharmaceutical product group III – issued without prescription.
SHELF LIFE: 4 years.
STORAGE CONDITIONS: Store on not more than 25ºC temperature in a protected from light place.
MANUFACTURER: "Neopharmi" Ltd.
12th km, David Agmashenebeli alley, Tbilisi, Georgia.
Tel/Fax: +995 (032) 259-64-46; 259-57-90.