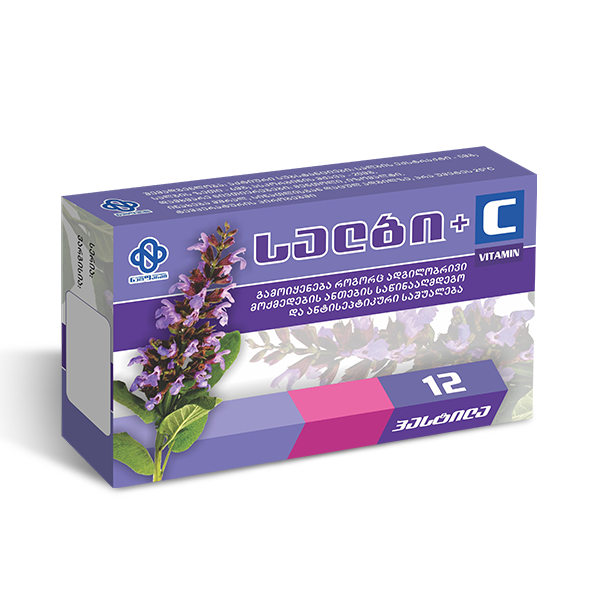 APPLICATION INSTRUCTION
PARAMEDICAL MEAN
SALVIA +C
DRUG FORM: Pastilles.
PHARMACOLOGICAL GROUP: Local acting anti inflammatory and antiseptic mean.
COMPOSITION:
Active substance: Extractum Salvae siccum 5 mg, Oleum Salvae – 6 mg, ascorbic acid – 20 mg.
Aiding materials: Menthol, Izomalt.
PHARMACOLOGICAL OPERATION: Preparation has anti inflammatory, antimicrobial, antiviral, expectorant action.
Pharmacological operation of the preparation is defined by complex of biologically active substances: tannings, flavonoides, essential oil (15% Tsineol), thriterpenic acid (ursolic acid and olean), P, PP and C vitamins.
Tannins, flavonoids, rosmarinic acid are characterized by enveloping activity, which determines their anti-inflammatory effect. Vitamin P reduces the permeability of the walls of blood vessels and capillaries. Extract of Sage is characterized by spasmolytic activity, facilitates the separation of sputum. The antimicrobial activity of Sage oil is mainly expressed in gram-positive strains of bacteria.
INDICATION: IT IS USED IN COMPLEX THERAPY, AS AN AID MEAN:
· Upper air passages inflammatory diseases: pharyngitis, tonsillitis, laryngitis, bronchitis;
· Mouth cavity inflammatory diseases: stomatitis, gingivitis, tooth extraction post state.
CONTRA-INDICATION:
Individual incompatibility towards the component composing the preparation.
SIDE EFFECTS: No data available.
APPLICATION AND DOSAGE RULE:
Pastilles should be slowly sucked in the mouth.
For adults and children over 12 years: one pastille every 2-3 hours (no more than 6-8 pastilles per day).
Children from 5 to 12 years: one pastille 3-4 times a day (up to 4 pastilles per day).
Duration of the treatment period shouldn't exceed 5 day.
OVERDOSE: cases of overdosage aren't recorded.
PREGNANCY AND LACTATION PERIOD: Preparation may be used at time of pregnancy and lactation period only with the consent of doctor.
INTERACTION WITH OTHER DRUGS: No data available.
INFLUENCE ON DRIVING CARS AND OTHER VEHICLES: The preparation does not influence on driving cars and other vehicles.
PRODUCTION FORM: 6 pastilles on the blister. Two blisters are put in carton box.
STORAGE CONDITIONS: Store in dry, protected from light place, at not more then 25ºC temperature.
ORDER OF ISSUE: III group of a pharmaceutical product – issued without prescription.
SHELF LIFE: 3 years.
In case of visual defects and expiry of validity date, the preparation can't be used.
MANUFACTURER: ,,Neopharmi" Ltd.
12th km, David Agmashenebeli alley, Tbilisi, Georgia
Tel/Fax: +995 (032) 259-57-90; 259-64-46.