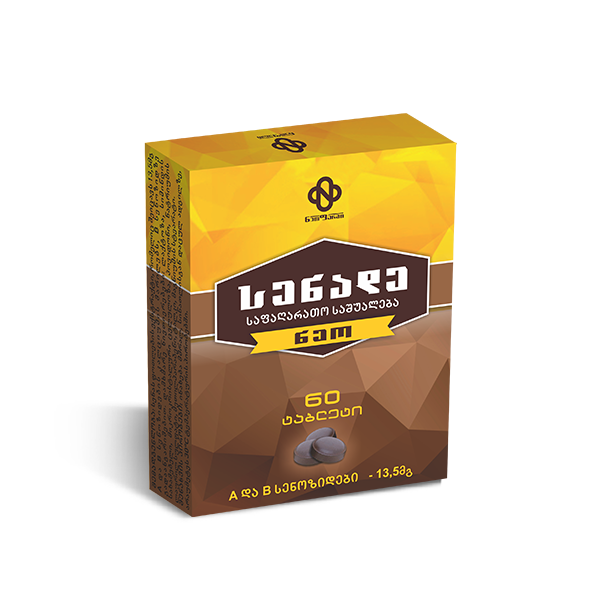 APPLICATION INSTRUCTION
SENADE NEO
Paramedical mean
GENERIC NAME: Sennosides A & B.
PHARMACOTHERAPEUTIC GROUP: Enhancing peristaltic laxative mean.
COMPOSITION: Sennosides A & B calcium salts – 13,5mg (as senna leaf extract).
Aiding substances: Lactose, corn starch, microcrystalline cellulose, povidone, sodium lauryl sulfate, methylparaben, talc, magnesium stearate.
Drug is made on the basis of Senna's leaves extract (Cassia acutifolia Del. family – Fabaceae).
PHARMACOLOGICAL OPERATION: Drug сauses irritation of large intestinal mucous membrane receptors, reflectory reinforces peristalsis, which stipulates quick bowel emptying, regeneration of its normal working rhythm. Does not cause addiction, doesn't prevent digestion.
The preparation starts operation after 8-10 hours from intake.
INDICATION: IT IS USED IN COMPLEX THERAPY, AS AN AID MEAN: Constipation caused by large intestine hypotonia and peristalsis weakening. Digestion regulation at time of haemorrhoids, proctitis and anal fissure.
USING RULE AND DOSAGE: It is taken perorally, common, 1 time in a day with water, before sleep.
In adults and children over 12 age: 1 pill. If there isn't effect, the dosage increases up to 2-3 pills.
For children: from 6 to 12 age: ½ pill and if necessary dosage increases up to 1-2 pills.
CONTRAINDICATIONS: Hypersensitivity towards preparation components, intestinal impassability, strangulated hernia, acute inflammatory diseases of the abdominal organs, peritonitis, bleedings from gastrointestinal tract, metrorrhagia, cystitis, spastic colitis, water-salt metabolism disorder.
Preparation is carefully prescribed during lactation and pregnancy period. For children up to 6 age, post operation period.
SIDE EFFECTS: Laxative action of the preparation may accompany colicky pain of the abdomen. Overdose and prolonged use may cause diarrhea.
ESPECIAL INSTRUCTIONS: At time of treatment, urine color is getting yellowish-brown or reddish – violet. It shouldn't cause anxiety: as natural color of urine will restore after preparation interruption.
It is not recommended to use pills of ,,senade neo'' more than 2 week.
OVERDOSE: In case of overdose there can develop a diarrhea, which may cause dehydration of organism. In such case it is necessary to take a large amount of liquid.
PREGNANCY AND LACTATION: Preparation may be used during pregnancy and lactation only considering benefit and risk of the preparation.
INTERACTION WITH OTHER MEDICINES: Long term administration with large doses may reinforce activity of cardiac glycosides and influence on the operation of antiarrhythmic drugs, increasing risk of hypokaliemia.
DRUG PACKAGE: Primary package: 20 pills in polyvinylchloride and aluminum foil blister.
Secondary packing: 3 blisters are placed in a cardboard box with instruction.
ORDER OF ISSUE: III pharmaceutical group, issued without prescription.
STORAGE CONDITION: Is kept in a dry, protected from light place, not more than 300C.
After the expiry or in case of defect, detected after the visual check usage of preparation is forbidden.
SHELF-LIFE: 3 years.
PRODUCER: "Neopharmi" LTD.
David Aghmashenebeli alley 12th km. Tbilisi. Georgia.
Tel: (032) 2596446; Fax: (032) 2595790.